Today, I finished my first half marathon! Thirteen and a tenth miles! How do I feel? Well…
Sore in my knees because my longest run before this was ten miles. Sleepy I guess because my body is just plain tired and I woke up at 4am to eat fufu. Stoked about possibly attempting a full marathon in the fall…
Before the race, I was generally calm. Then Friday night, I got nervous about if I'd remembered to bring everything I'd need for the race on Sunday. What if I'd forgotten something important like my passport or something? What if it rained or was super cold race morning? But my nerves quieted down after praying before bedtime.
Then Saturday night hit and I was too excited to sleep. How many people would run the half? Talked myself through each mile of the race and how I'd probably feel at each stage. Practiced my lines for the nay-sayers in case I had a run-in with them again. Not enough time to think every possible thought because I should get some sleep…After prayer, again, I was calm enough to rest.
The weather was PERFECT! In the 60s with cloud cover and a gentle breeze pretty much the whole way! The course was gorgeous – I would recommend this half marathon for anyone looking for a scenic run. An altogether pleasant experience!
There is, apparently, an African proverb that says, "If you want to go fast, go alone. If you want to go far, go together." I saw it on a banner at the Jo'burg Int'l Airport…I'm so thankful for those who "went with me" and made this milestone possible. Not that they'll ever read this post, but since a tree that falls in the middle of a forest still makes a sound though no-one apparently hears it, I shall thank them all the same:
Tennille: For getting a running group going in the Lansing area that meets three times a week to run together! Ok, so I only showed up to one of those meetings. Yes… But… Just knowing that there are others dragging themselves out of bed for a run is so encouraging! And even though I didn't have to send in reports on how many miles I did each run, I felt accountable to a group for my training…so sometimes, I'd go out just in case she might randomly ask me how my run went and I didn't want to look foolish trying to find a good excuse.
Coach Chris: For giving me a training plan for the last two weeks of my training. Who needs a coach? I'd thought in the past…I mean, there are gazillion training plans online…all you have to do is follow them! But what happens when you need your plan adapted to special needs? Needs like "I went to Zimbabwe for my brother's wedding and feel 3weeks behind my training now I have only 2weeks to the race with my longest run as 6miles…" So here's a shout out to Northwoods Endurance and hooray for having friends in the business!
Kiran: For applying that African proverb literally. He could have run at least a 2min/mi faster pace. But the race wasn't about setting a personal record – it was about helping me finish. And for going my pace the whole way. For trusting me that I know my body and my limits and rightly believing that I was motivated already. I hope I can bless someone in this way as well!
Kimmy: For putting up with my pre-race jitters. For running the last 5 miles with us. For being overall an amazing friend. For too many things to mention in a public post.
Kate: For being an awesome random stranger with a stride that matched mine who ran with us those last 4 miles! It was super awesome to make an acquaintance at a race. That's why I'd want to run the Comrades marathon in South Africa. I've heard it's all about making friends as you run together! Coincidentally, the Comrades was today as well…:-) A sign? 😛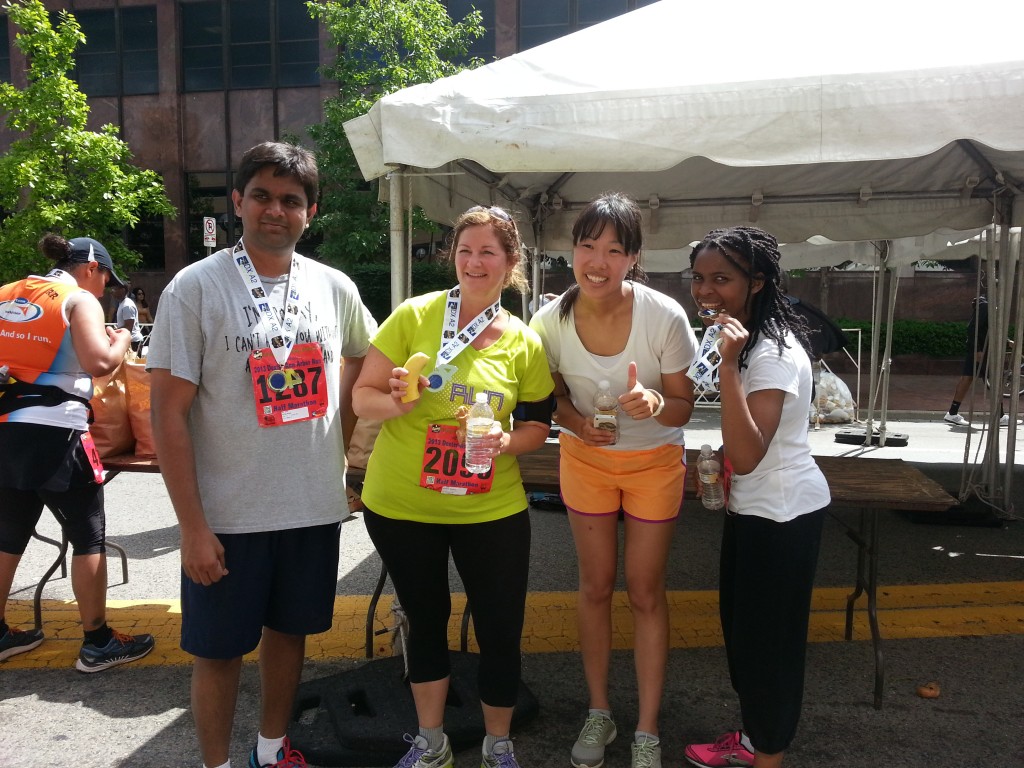 Erin: For being the most awesome cheerleader of the year! She showed up every mile or two from mile 6, in her Team Revolution uniform, with huge signs cheering us on. Incredible source of encouragement. AND for driving my car up from Dexter for me. My legs felt like jello after 13.1miles of pounding pavement so it was sweet not to have to drive myself home!
Jesus: For granting me peace every time I turned to Him. For perfect running conditions. For teaching me that You can do the impossible in/through me if I'd be willing to trust You beyond my limitations. For wonderful friends old and new. For inspiring hope in me for greater things yet to come.
So I'm halfway to accomplishing one of my goals for my 30th year. Now to train for the other half…Can we do it? Yes we can! Because Philippians 4:13!