I somehow missed the fact that Michael Phelps was trying to win an unprecedented eight (8) gold medals in this year's Beijing Olympics until after the fact. So I back-tracked and watched e v e r y s i n g l e race on nbcolympics…cheering as if I didn't know what the outcome would be. Then I watched all the interviews and commentaries on his amazing feat, soaking it all in for inspiration to go running the next morning.
There's just something about witnessing sheer determination in sportsmanship that rouses the latent nobilities. Makes you want to do whatever you do to the best of your ability! Paul's analogy, in 1 Corinthians chapter 9, of running a race resonates well with the Olympic season. Christianity isn't just a walk in the park, sometimes it's a 4×100 freestyle relay.
Pamela Barone wrote an article on August 17, 2008 entitled "5 Things we learned about Michael Phelps" (read it here). Here are some lessons I drew out of her analysis…
Phour lessons from Phelps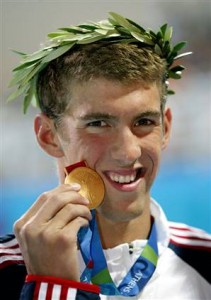 1. Conventionality won't win the race.
The 100m butterfly. Mike Cavic arrived at the wall first. But Phelps touched first, winning by one hundredth of a second! And it wasn't luck.
"Conventional swimming wisdom would always say not to take an extra, mini-stroke at the finish. But Phelps, seeing that he was behind Cavic, knew that if he glided to the wall, he had no chance to win. So he took the extra stroke — and that was the difference. His fingers beat Cavic's to the wall. It's evident in slow motion, where Phelps' arms are moving so much faster than Cavic's." (Barone)
"When I chopped the last stroke, I really thought it cost me the race," Phelps said. "But it happened to be the exact opposite. If I had glided, I would have been way too long. I ended up making the right decision, trying to take a short, fast stroke to get my hand on the wall first."
What's always been done isn't necessarily what needs to be done right now.
2. It's not just about natural ability but perseverance.
Swimming with goggles full of water is essentially swimming blind; you can't see the walls. How did Phelps not only win the race, but break a record while at it?
"Where most swimmers would, and do, panic upon being blinded by water on their eyeballs, Phelps, swimming the 200m butterfly for his fifth gold in Beijing, immediately realized that he should start counting his strokes. That enabled him to at least estimate where the wall was. That, combined with spotting the "T" at the end of each lane was enough for Phelps to make decent turns. And with just decent turns, he won, breaking the world record — only by .03 of a second." (Barone)
"As soon as I dove in, they filled up," he said. "I was more or less trying to count my strokes, hoping I'd be dead on at the turns. I'm disappointed because I know I can go faster, but there was nothing I could do. I handled it the best way I could."
Persevere. Where there's a will, there's a way.
3. Teamwork and No Jealousy.
In the 4x100m freestyle relay, the U.S. team was well behind when the anchors dove in.
"I'm not going to lie," Lezak said. "When I flipped at the 50 and I still saw how far ahead he (Alain Bernard) was, and he was the world-record, I thought, it really crossed my mind for a split second, there's no way.
"Then I told myself that's ridiculous, I'm racing for my country here, I can do this."
"It took the fastest relay split in history, a 46.06, by Lezak, but he touched out Bernard by .08. Without Lezak's miracle swim, it would have been seven golds and a silver for Phelps." (Barone)
Lezak remembered that he wasn't racing against Phelps, they were racing together for their country. Can we put jealousy aside for the sake of the cause?
4. All things work together for good…
"Obviously Phelps didn't plan to swim the 200m butterfly blind; or to win the 100m butterfly by .01 of a second; or for Lezak to split a 46.06 in the free relay.
"But all of those things happened — it wasn't perfect, but it did work out. Eight events, eight gold medals. Some were close and some were not; some looked easy and some did not. But he won them all, despite obstacles and challenges.
"It all worked out, not so much for Mike Cavic or the French relay team, but for Phelps. And that's why it's unlikely the world will ever see anything like it again." (Barone)
But the world can see a united front of Christians, believing against the odds like Lezak, demonstrating sheer determination and changing the face of history like Phelps.